Arven launches local commitment through Sail Training Shetland sponsorship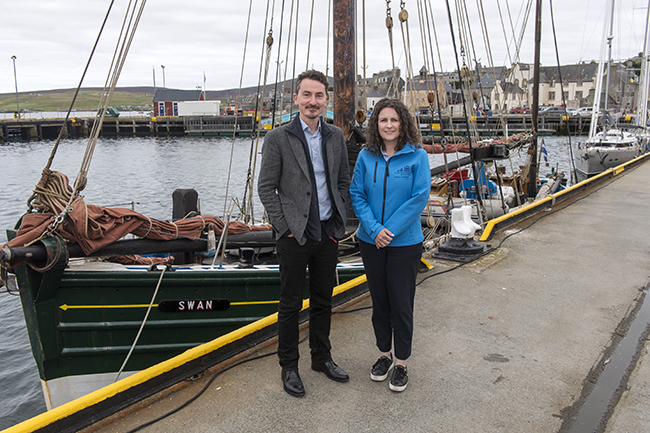 Shetland. Arven Offshore Wind Farm ("Arven"), a 2.3GW floating offshore wind development off the east coast of Shetland, is sponsoring Sail Training Shetland's 2024 sail training programme. The initiative provides young people aged 15-25 with opportunities to learn how to sail, and Arven's contribution will secure the funding needed to deliver the ship placements.
Formed in 2009, Sail Training Shetland is a collaboration between The Swan Trust, Lerwick Port Authority and Shetland Tall Ships Limited, which has provided sailing experiences to over 450 young people. The annual programmes teach trainees lifelong lessons about stepping out of their comfort zone and embracing new opportunities, as well as providing the confidence and skills needed for future life stages, such as going to university or starting a career.
Whether they have opted to train on board a Tall Ship or a Small Ship, young people can fully immerse themselves in the crew experience during a two-week voyage, which is often international. Duties include taking the helm, hoisting the sails, scrubbing the decks, and even preparing meals for the crew. With a permanent crew on board, no prior experience is necessary, making it an excellent environment to learn about vessel operations.
The Arven team decided to support Sail Training Shetland because of the strong alignment between the project and the charity's dedication to nurturing maritime skills. Arven hopes to use the sponsorship to grow young people's interest in pursuing careers related to the sea, such as those in offshore wind.
Ewan Walker, Project Director for Arven, said:
"Arven aspires to be a flagship project for floating wind technology, and one of our goals is to spark enthusiasm among young people for wind energy and motivate them to consider future careers in the sector. We also aim to bring long-term job opportunities to the Shetland community.
"Initiatives such as Sail Training Shetland play a crucial role in developing the skills and qualities that young people will need for their future careers, so this partnership is an excellent fit."
Melanie Henderson, Chair of Sail Training Shetland commented:
"Sail Training Shetland has been providing young people with valuable life skills for over a decade. With the high level of interest each year, the support from funders and sponsors is crucial to helping continue to provide sail training placements for young people and the life-changing experiences it offers.
"This partnership with Arven will enable us to capture the enthusiasm from The Tall Ships Races 2023 at Lerwick to make another great impact in 2024, recruiting sail trainees to participate in our placements."
John Stevenson, who participated onboard Roald Amundsen in The Tall Ships Races 2023, shared his experience:
"The experience has helped in many ways; on a personal level I have become a more confident person, something which I have struggled with in recent times. It has also fostered my perseverance, despite short-term hardships and challenges and helped build on my team and social skills, and the need to push personal boundaries. It has really built my confidence for the future."
Sail Training Shetland is a yearly programme reliant on fundraising, grants and donations to deliver training. Recruitment for the next programme is expected to launch in February 2024.