Collaboration is key – takeaways from Floating Offshore Wind 2023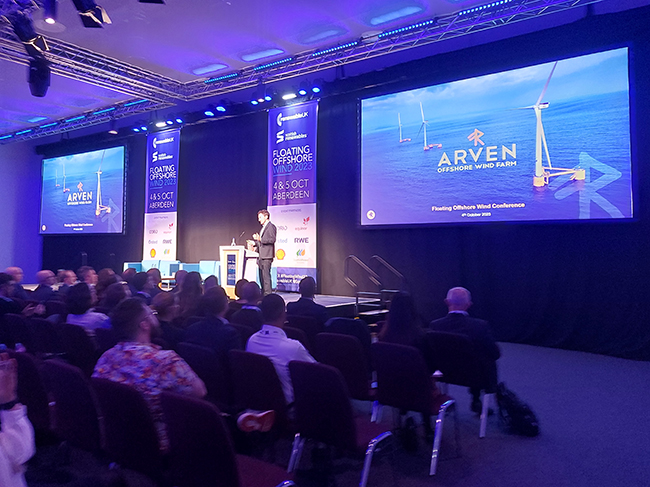 by Ewan Walker, Project Director
Collaboration emerged as one of the key themes from Scottish Renewables' Floating Offshore Wind conference in Aberdeen earlier this month – one which was mirrored in Arven's approach to the event.
We were delighted to share an exhibition stand with a Shetland delegation comprising Shetland Islands Council, Highlands and Islands Enterprise, Lerwick Port Authority, NORN The Shetland Engineering Alliance and ESB, the developers of an offshore wind project which neighbours Arven
Our mission? To show that Shetland is future ready, already. We promoted a powerful message that Shetland – a place pivotal to large-scale energy developments for almost half a century – is perfectly positioned for the rapidly growing offshore renewables market.
Despite its outstanding capabilities, I think it's fair to say that Shetland often doesn't get the national profile it deserves. Together with partners, we relished the opportunity to shine a light on its exceptional infrastructure, well-developed supply chain, and its outstanding track record on delivering major energy projects.
Coming together in a delegation underlined the commitment from all partners to work together in a positive way to place Shetland directly at the heart of the energy transition, primed and ready to respond to the opportunities.
It was two years since I last attended Floating Offshore Wind, and what struck me was how much it had grown. There were more exhibitors, more delegates and a lot more to say about the scale of the opportunity for floating offshore wind, especially in the ScotWind context.
Floating Offshore Wind provided a fantastic opportunity for the Arven team to talk to people about the project's aspirations. It's less than a year since we were granted the seabed option: the amount of work that's been done in that time has surprised a lot of people, but, despite that progress, they can see the project is still in the very early stages with a long road ahead.
One of the main discussion points for conference delegates was on grid connection – the dates, locations and cost implications of connecting power generated from offshore wind to the national grid. It's far from clear how this will develop, but the implications for floating offshore wind in Scotland are huge. For some projects it could be make or break.
Developers and the supply chain understand there will be many challenges ahead as we scale up our floating ambitions, and the positive to take away from events like these are that they enable us to come together and focus on how we address and overcome those challenges in a meaningful way.